on
April 20, 2014
at
5:09 AM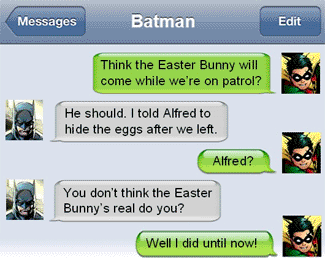 I've been a bit neglectful here, but it's been for a good cause (drawing, for the most part), and the backlog of my oddball websurfing is prepared and ready for that post-egg hunt unwind in front of the computer. What can I say? I'm all about internet holiday traditions:
• The image to the left is just a small taste of Texts from Superheroes. That should be a thing in comics, except it'd probably make that whole "secret identity" thing even less plausible.
• Statistics are always fun, right? Hey, come back here! I'm talking about a statistical look at the paintings of Bob Ross and Ars Technica's "Steam Gauge," which reveals the most popular games on Steam. This "Never Played" one seems to take up a lot of time.
• It looks like Saturn could be birthing a new moon. No word yet on if the aliens behind the Black Monolith have given us permission to land there.
• But why go to Saturn's moons when America has so much unoccupied space? And yes, that's largely due to farmland, lakes, and places that, like Saturn's moons, are kind of hostile to human life.
• For a Millennium Falcon car, this vehicle's pretty understated. Still cool, though.
• Those who went to Pax East were able to get their hands on a Fallout "Vault Boy" puppet, which some think is a sign of a release date coming for Fallout 4. Not to radioactive rain on their parade, but the puppet came from a Penny-Arcade comic about a vault dweller that had a Vault Boy puppet, and the P-A guys run Pax East, so it could only mean someone saw an opportunity to move some puppets…
• It's Easter and that means it's okay to eat deep-fried Cadbury Creme Eggs. To say otherwise insults our holiday traditions, and that's the story I'm sticking to, as are my chocolate-and-oil-covered fingers.
• Getting back to planets, have some fun playing with gravity in Super Planet Crash. Add some celestial bodies to a small solar system and try to keep the whole mess stable for 500 (virtual) years. If it helps, imagine you're playing with immense, spherical Easter Eggs that like to hurtle through space.