on
June 22, 2017
at
11:56 PM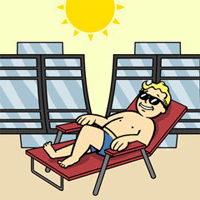 Nothing in this post is about Fallout New Vegas, but I thought the first item about the heat in Arizona warranted the reference. Anyway:
• It's been too hot to fly airplanes in Phoenix this week, as the air is too hot (and therefore less dense) to generate enough lift. Over in Mesa, Arizona, it got so hot that a plastic mailbox post melted, and some residents of the state are driving with oven mitts or finding scorpions in their pools, trying to cool off.
• The British library has a cookbook from the 14th century that includes (with illustrations) a recipe for roast unicorn. I especially like that it begins with "Taketh one unicorne".
• The Steam Summer Sale is on, and Ars Technica lists what they think are the better deals. As I understand it, all the on-sale games are on sale already, as they removed flash sales and community voting on sale items.
• The upcoming untitled Han Solo movie lost its two directors over creative differences, so Ron Howard is taking over trying to fix the hyperdrive. Nobody tell him the odds.
• The original voice cast from the cartoon show Rocko's Modern Life is reuniting for a TV movie in 2018.
• Because we haven't had enough zombies in video games, here's a time-waster called Zombie Survival Game. Use your arrow keys or WASD to move, your mouse to shoot, and that's about it. The cute cube-ish graphics are a nice touch.