on
December 3, 2016
at
3:00 AM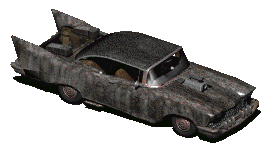 I think it's safe to say that Fallout 4 disappointed a great many people who were hoping for a role-playing experience similar to previous games in the franchise, especially New Vegas. While very pretty and fun to muck about in, the central plot was… problematic. If you hanker for a return to a more isometric-looking wasteland taking place in the American Southwest after the Great War (and you own a copy of Fallout 2, then you might want to take a look at Fallout 1.5: Resurrection?
Now, I haven't had the time to delve into this fanmade entry in the franchise, but from what I've read, a lot of the reviews are… wait for it… glowing. If you scroll down on their site and watch the trailer, you can see they put an emphasis on multiple solutions to problems, including the famous "low intelligence" options of the earlier games. The biggest gripe seems to be in choice of language, but since this mod was originally Czech in origin, that's not a total surprise.
If that's still not enough original-era Fallout stuff, there's also:
• The Fallout 1 Fixit Mod that fixes spelling errors, restores some cut content, fixes bugs, and allows the player to adjust some of the nuts and bolts of the game world.
• The Fallout 2 Restoration Mod. Even more cut content put back into place, bugfixes, etc. It still has talking deathclaws, but you can't fix everything. 🙂
• If you're really serious about the first two games and can't stand to be without them, you could try installing them on your Android device, but you probably need a decent Science skill and the right materials to make it work.
Happy wastelanding! Oh, and I put an image of the Chryslus Highwayman in this post because I love the ambient music track that accompanies it when you drive. It still remains a bit of a mystery to me why the car is a Chryslus Highwayman, yet the soundtrack lists the music as being entitled "My Chrysalis Highwayman." The best anyone seems to have come up with was that it was a spellchecking error, a mishearing of the name, or some other typo-ish thing.