on
July 24, 2015
at
2:54 AM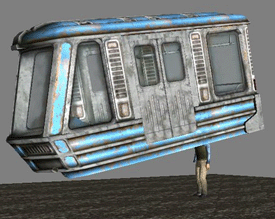 Many of you may be too young to recall the good ol' days of how video game companies often had to work around hardware limitations or other constraints to bring you your digital entertainment. One of the earliest I can recall is the old Pac-Man game for the Atari 2600. With 4k to work with, being able to render Pac-Man and four ghosts seemed a nigh impossible task, but someone figured out that making the ghosts flicker (I mean, hey, they're ghosts) would allow the game to appear to display multiple foes for our dot (or in this case, wafer) eating protagonist to face.
Bethesda's Gamebryo engine is probably the closest thing to this sort of coding conundrum in existence today. It and its variants are used to run the Elder Scrolls games as well as Fallout 3 and New Vegas, and that similarity is what has allowed the various mods made for these games to be ported from one to the other fairly easily. It runs on both consoles and PCs, and as it's a bit of a tar ball, the engine has given us a lot of hilarious bugs.
Given that this is a 3D engine that's pretty much designed for first-person shooter role-playing games, occasionally, the engine needs to be wrangled a bit to give you the experience desired by the coders. Hence, the trickery used to create Fallout 3's Presidential Metro. All that's needed is that you "see" the metro around you. Your arm is suddenly trransformed into the whole subway interior, and "you" are forced to run at a ludicrous speed for a few seconds to simulate the ride. Once that's over, your arm pops back to normal, and you proceed.
It's similar to the popular XRE-Cars mod for New Vegas, where your character model is basically transformed from a humanoid shape into that of a car while it's active. It's not what one would want if a magic wand and a wish for driveable vehicles was made, but within the limitations of the engine (which, don't forget, had to run on previous-gen consoles), it's a pretty good trick.
The slide shows in Bethesda's Fallout games are accomplished with another in-engine illusion. You, at home, see photos go by with narration and music telling you the backstory to the Capital/Mojave Wasteland. Inside the game, your avatar is immobilized in a dark room, forced to face a curtain, A Clockwork Orange-style, while someone tells you about what you're seeing. In order for your avatar (and therefore you) to "hear" the speech, an NPC has to be in the vicinity to speak to you, so the game puts one behind the curtain, out of sight, to deliver the narration. In New Vegas, this is accomplished by a character called "Ron the Narrator," named for the game's main storyteller, Ron Perlman. There's also a mission from Fallout 3's "Point Lookout" DLC that requires a character speak with you telepathically, so the game puts an NPC inside an unreachable building to be the source of the voice tracks (though in this case, they forgot to make this NPC not show up on your HUD's radar).
I rather like it when games are forced to try new ways of doing things to squeeze better performance and new behaviors out of limited resources. Consoles, for better or for worse, help to make this happen, as game companies try to make better-looking games run on devices that aren't going to be upgraded for several years. I mean, look at the original graphics for Oblivion and the ones for Skyrim. Remember, those were both coded for the XBox 360, and what a difference a few years can make.
Also, I hope I'm not the only one who saw the image above and thought of the superhero created by "The Frantics" named Mr. Canoehead. If I am, I can accept it, and take it as an opportunity to relive my youth when pop culture was something that happened to other people…